Breaker Box Replacement Humble, TX
If your breaker box is malfunctioning or in need of a replacement, your home could be at risk of an electrical fire.
---
Do you need a breaker box replacement?
If your home is experiencing electrical issues, you may be searching high and low for the source of the problem. Many homeowners fail to realize how their breaker boxes can contribute to electrical malfunctions.
At A Phase Electric, we offer professional breaker box replacement using the industry's best tools and techniques. Contact our master electricians in Humble, TX, today to schedule a breaker box replacement service.
Is it Time to Replace Your Breaker Box?
Sometimes, breaker box issues can be resolved with a simple repair. However, even the best electrical panels eventually reach the ends of their lifespans. It often makes more sense to replace a breaker box entirely rather than continue repairing problems. An outdated or malfunctioning breaker box can often produce clear signs that it is reaching the end of its life.
Here are a few signs it's time to replace your breaker box:
Your circuit breaker panel is at least 20-25 years old.
You smell a burning scent in or around the fuse box.
Your breaker box feels warm to the touch.
You see rust around the electrical panel.
You hear strange noises coming from the breaker box.
You experience tripped breakers frequently.
Your electrical panel has received significant damage.
You have a Federal Pacific Electric breaker panel.
Upgrading an outdated or malfunctioning electrical system like your circuit breaker panel is probably one of the best options for bringing safety and efficiency into your home's electrical system. More often than not, electrical panels are simply outdated, unsafely installed, poorly manufactured, or, for lack of a better term, broken.
For Example: If your home was built between 1950 and 1990 with a Federal Pacific Electric (FPE) breaker panel that uses Stab-Loc circuit breakers, you absolutely need a replacement and are at high risk of a breaker malfunction and fire.
Multiple tests have been done over the years on the Federal Pacific Electric panels that prove (one in four) Stab-Lok circuit breakers are defective and will not properly trip when needed. An estimated 2,800 fire disasters are caused each year due to these dangerous and poorly manufactured breaker panels. If your home is, in fact, equipped with one of these electrical systems, call us immediately for an upgrade!
With A Phase Electric, you can count on:
The latest, safest, and most efficient circuit breaker equipment
Home surge protection with any panel upgrade
A 10-year manufacturer's warranty
A 5-year labor warranty
Waiting too long to replace your breaker box can put your home and family at risk. If you're unsure whether you need a new circuit breaker panel, we'd be happy to come to your property and perform a thorough electrical inspection.
Professional Breaker Box Installation
If you've determined you need a new breaker box, you may be tempted to try to install it yourself. However, we highly recommend hiring our team of professional electricians instead.
Attempting to replace your own breaker box could put you at risk of electrocution or fire.
Our electricians go through years of training for a reason — we know how risky electrical work can be. Leaving your replacement to the professionals can ensure your family's safety throughout the process.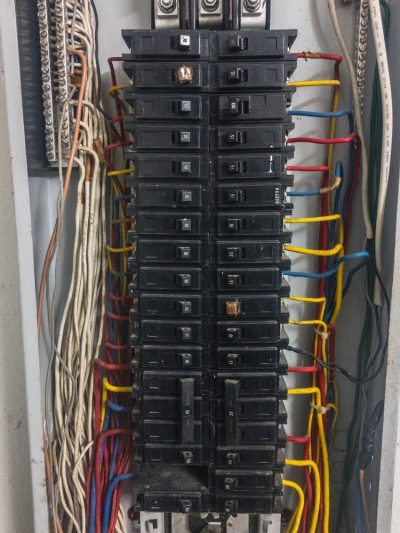 Additionally, working with a professional can ensure that you get the most out of your new breaker box investment. We install the safest and most efficient circuit breaker equipment on the market, ensuring that your new breaker box works well for many years to come.
Our professional electricians can help you understand whether you need a brand-new breaker box or a repair. You can trust our expertise and experience to help you make an informed decision about your breaker box.
How Upgrading Your Breaker Panel Makes a Difference
You may benefit from a new breaker box even if you believe your existing one is working well.
For example, if you simply do not have enough outlets, a new breaker box can enable our electricians to add more circuits throughout your home. These electrical upgrades can allow you to have more appliances and technology in your home without worrying about tripping a breaker or starting an electrical fire.
Alternatively, if you recently installed a new large appliance, your current breaker box may not provide a sufficient power supply. Upgrading your circuit breaker panel can allow large appliances to run safely without causing your electrical panel to reach capacity.
By upgrading your breaker box, you can greatly reduce the risks of electrical hazards. Many breaker boxes produced before the 1990s do not meet today's safety standards.
These boxes may contain faulty wiring and other issues that place your home at risk of an electrical fire.
Schedule Your Breaker Box Replacement Today
At A Phase Electric, we offer professional, hassle-free breaker box replacements for customers across Humble, TX. As the area's top-rated master electrician, we provide the industry expertise and high-quality service necessary to help you feel confident in your breaker box installation.
We perform a wide range of electrical services, including breaker box repairs, replacements, maintenance, installation, and more. We'd be happy to provide you with a free estimate for a breaker box replacement or upgrade.
Call our electrician team today at 832-990-4248 to schedule your estimate or to learn more about breaker box replacement.
Breaker Box Replacement FAQs
1
How will I know when to replace my breaker box?
Here are some common signs it may be time to replace your electrical panel:
Frequent breaker trips
You have an older home with an outdated electrical system
You've seen wiring that appears melted or heavily worn
You hear strange noises coming from your electrical panel
Frequently flickering/dimming lights
Power surges when powering on certain appliances
Frequently overheating appliances
These are just a few of the most common examples. For the best recommendations, contact A Phase Electric today for a professional inspection and troubleshoot.
2
What is the lifespan of a breaker panel?
According to the Consumer Product Safety Commission, a breaker panel's average lifespan is typically between 30-40 years.
Being that breaker panels are made up of electrical components, depending on where you live, atmospheric conditions (such as humidity) may affect/shorten the lifespan of your breaker panel.
3
Can I replace my breaker box on my own?
Attempting to replace a breaker box yourself is incredibly dangerous. The process alone is complicated, and even the smallest mistake could result in severe injury and even death.
You must have your breaker box replaced by a licensed electrician to ensure the safety of your home, yourself, and your family.
4
How do I know if my breaker is outdated?
Breaker boxes need to be replaced roughly every 30 years or so.
If you've lived in your home for over 20 years or just moved into an existing home, you should have your electrical system inspected to determine whether it's time to replace your breaker or any other electrical components.
Common signs of an outdated breaker box include:
Burn marks
Strange noises coming from your breaker
Burning smells or the smell of melting plastic
If you have a Federal Pacific Stab-Lok breaker
Your breaker is designed to provide 60-100amp, whereas today's homes need at least 200amp servicing capabilities.